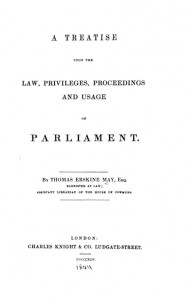 The rules of Parliament are opaque at the best of times. Parliamentary practice is heavily reliant on precedent of what happened last time and why. Parliamentary skill comes from knowing the oddities and corner cases, where decisions can be said not to apply.
Those are written down in a book affectionally known as Erskine May, named after the person who first wrote the rules down in a coherent fashion, so all those inside Parliament could know what precedents there were.
In the 200 years since Erskine May was born, Parliament has changed significantly in some ways; and very little in others. It was 25 years ago that the House of Commons was first televised, but the rule book for the chamber remains only available to those able to afford £293 a copy. Even my own MP does not have a copy.
Even though it is sold commercially by Lexis Nexis, the text is written and updated by Parliament staff in order to be definitive. Public work by public servants, for private benefit.
It is time that the rules of Parliament became open and free on the web, as an official electronic copy, for free, for all. The bootleg 25th Edition floating around is not good enough.
Parliament champions its influence worldwide, as evidenced by the number of copies of Erskine May they give away. But when the clerks use iPads in the Chamber, then a paper rule book is no longer sufficient.
A 26th edition, published free on the web on the bicentenary of Erskine May's birth, would be a fitting reflection of a modern Parliament in 2015. And if Lexis Nexis want to charge £293 a copy for the print version, they can continue to do so.