Hi!
I make it easier to discover information, so that knowledge can be used to benefit the world.
Whether changing finite or infinite games by building small internet things, with the aim of improving people's lives, often through longer term organisational support. Most blog posts are oft intended as very-long twitter @replies to a hashtag, musing over a topic, rather than necessarily stand alone posts. Conversations often work better than words for nuanced discussion.
I also have another blog on which I post links and references that I may find Interesting Again. I make public many highlights made on my kindle, and tweet.
I've spent the last 2 years doing a variety of policy troublemaking. Much of that isn't here.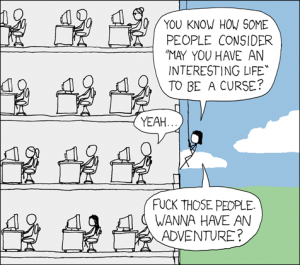 For Fun
I've been at least partially responsible for aspects of various transparency projects in the UK and beyond, including TheGovernmentSays.com (including regional and Whitehouse and UN versions, leading to Spin Different),  www.commentonthis.com,  www.directionlessgov.com  and www.mptables.com. I've also built stuff for, and am involved with mySociety. I've also made some "interventions" in various policy areas of interest. Sometimes more amusingly/productively than others. It's mostly providing technical/digital solutions to civil issues for change. This is a nice introduction.
I have co-run several technical "hack day" type events for Rewired State and others, and was part of the team that won first prize at the first Rewired State hackday. I also lead the organisation for OpenTech - a small idiosyncratic technical conference with 3 tracks and ~700 people.
I tend to also have fingers in a variety of pies. I forget many of them.
The "day job"
For a decade, I worked (lately) as a Research Fellow in a multidisciplinary and interdisciplinary research group, doing internet infrastructures for academic social science data for the group and national data services, and beyond. It also included a good chunk of policy and delivery work to make some of that data available. I also was solely responsible for all technical aspects of the ESRC's Research Methods Programme from 2002-2007, which included the week long, 800+ attendee Methods Fairs. Further details are available on request. It was mostly providing technical/digital solutions in a research context to research problems, sort of a research-(dev)Ops.
From January 2012, until December 2013, I worked with Privacy International, on a range of areas. I'm now available for consultancy and freelancing, and looking for a full-time role from March 2014.
You can contact the author, Sam Smith, on  sams@disruptiveproactivity.com or 07980 210 746 (UK). I live in Cambridge, UK.