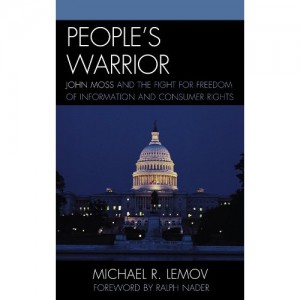 The irrepressible Carl Malamud recommended to his twitter followers the new Biography of John Moss – People's Warrior: John Moss and the Fight for Freedom of Information and Consumer Rights. John Moss was the member of Congress who guided the Freedom of Information Act into law in the US (it took a decade). That, and stories of the other causes he took on, makes a really interesting book.
Carl is someone who has really taken the vision Moss saw in writing those rules, and has pushed it to it's potential.
What struck me towards the end was a reflection on where we are now, following the banking crisis, and all the other crises of the last few years, and how much of that was foretold in arguments against the Acts that John Moss worked for. The final chapter talks about the current situation, and reflects, with the benefit of hindsight in 2011, on what became of some of the supporters and critics of the legislation 40 years ago, e.g. [Donald Rumsfeld].
Concern in the US then, is still repeated in other areas, and also very much in this country at this point: arguments about the current crisis multiply: MPs Expenses, bank bailouts, phone hacking; the same story is repeated, a story of the abuse of power.
And that's what the book is about; one person's tireless fight to avoid it's abuse.