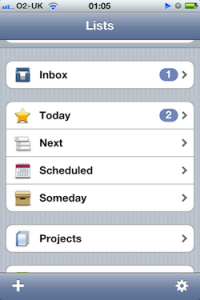 I use Things to manage my Getting Things Done style todo list.
While there are a plethora of screencasts and experiences for omnifocus, and it's exceptionally powerful; there does seem to be a dramatic lack of equivalents for Things.
Which means I'm spending time watching omnifocus stuff, thinking that while that's useful, I don't need most of it, and the interface annoyed me, but there's a good stack of things which I'd like Things to be able to do (and it probably can), but I have no idea how.
The first is sequential tasks – hiding later tasks until current ones one are done. I've no idea how to make this disappear in things

. From the help, that doesn't seem to be possible, but it might be via a hack.
Waiting List
The other is a feature which I saw and almost considered switching to omnifocus for, is what David Sparks calls the waiting list in his screencast. But Things doesn't have perspectives – which is what that was built on; but it does have the ability to have multiple "people" – which are considered normally as team mates. If you are working with multiple people, you can assign them a queue and hand them tasks. Which is useful, but what stops one of those queues being a task list that you check every so often. Team mates are often people who take stuff off your tasklist, and a Things person can be be any item in your Addressbook (which is itself slightly annoying).
So I've created a "person" called "waiting", which I can assign tasks to which I'm waiting for something (generally that's not likely to come back soon), and it gets them out of my todo list until I go to look for them in a "weekly" review.
You can also assign it to the waiting person and then move it straight back to the project if you want it to be clearly waiting, but still in view. Not your task, but a reminder it's on hold.
Now to figure out the hack for the sequential tasks thing.